ELLI'S NEWBORN CAMERA & LENSES
Whilst I'm the first to acknowledge that there's much more to creating a good photograph than just the camera kit used, the geek in me loves talking gear. So whether you're a parent or curious photographer, here are what I believe to be the perfect newborn camera and lenses for my maternity, baby and family portraits.
I'm a massive advocate of mirrorless cameras, I bought my first Fujifilm mirrorless back in 2013 and haven't looked back. Shooting exclusively with the brand and teaching workshops led me to be invited to become an official Fujifilm X-Photographer alongside being an Elinchrom Lighting Ambassador. I'm now in the very fortunate position of being able to travel the world teaching photographers.
DIFFERENT LENSES FOR DIFFERENT SESSIONS
Currently, I'm shooting with two new Fujifilm X-T4s. I use a mixture of lenses as I like to vary them to keep my work feeling fresh, so I will often swap between my prime and zoom lenses. For babies I mainly use my Fujifilm 35mm f/1.4 and a Fujifilm 16-55mm f/2.8 zoom, alongside the Fujifilm 80mm f/2.8 macro.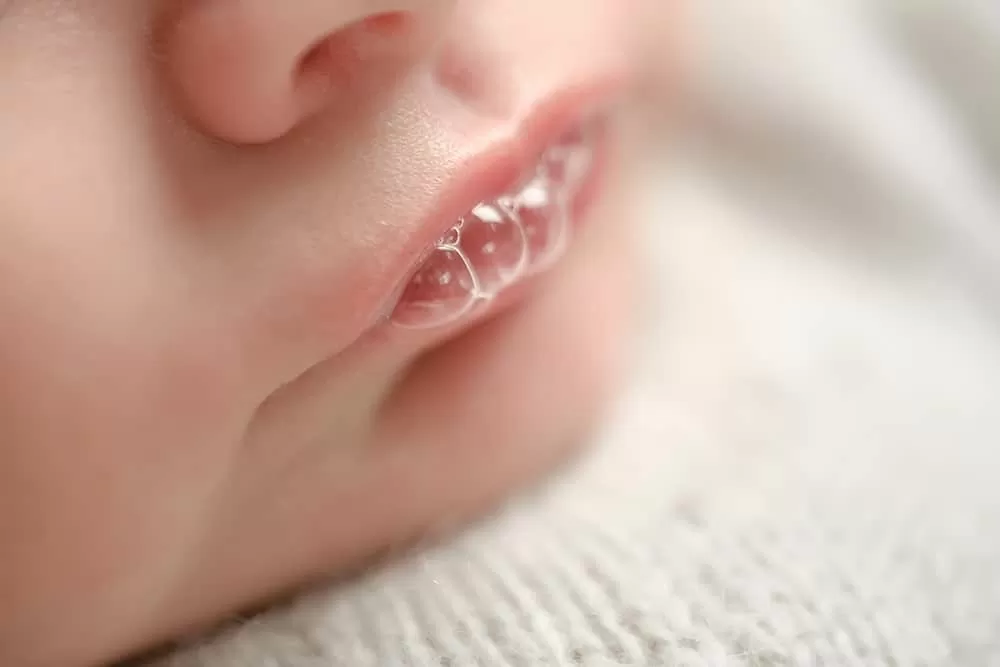 With maternity I tend to use either the Fujifilm 56mm f/1.2 or the Fujifilm 50-140mm f/2.8 zoom. Finally, I have a Fujifilm X100F which serves as both my back up camera and the one I carry everywhere for personal use.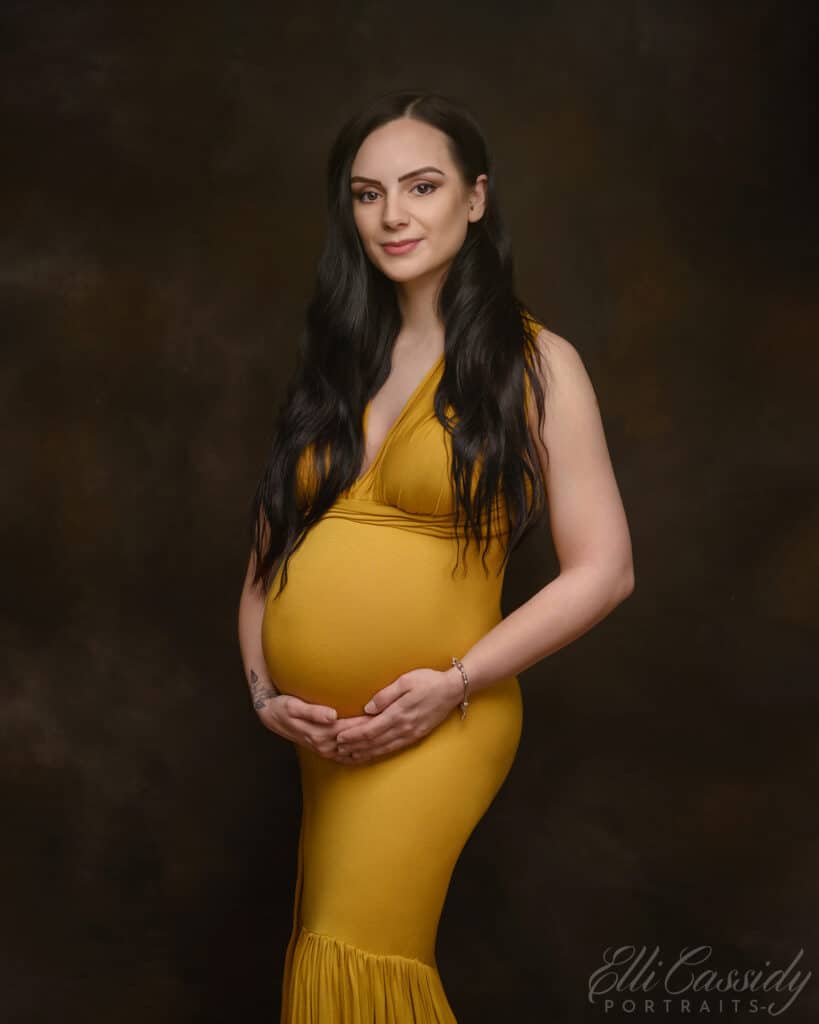 MY MOVE TO MIRRORLESS CAMERAS
There were several reasons for changing over to a mirrorless system. When I became a photographer and starting using full-frame DSLRs and lenses for work I realised that I had stopped using my kit for my personal photos of my children. Everything had become mobile phone shots, and this is when phone cameras were pretty rubbish.
Initially I bought the Fujifilm X100s as a personal camera, a beautiful mirrorless with a fixed lens, and it was wonderful! The lightweight system was very freeing and the file quality and colours were excellent. It wasn't long until I decided to sell all my studio kit and buy into the Fujifilm XT system.
THE FUJIFILM CAMERA BENEFITS
The lack of weight was a big factor and the smaller size felt better too. I also loved the colour profiles that were included within the Fujifilm system. My editing time reduced dramatically as the SOOC files were looking so good.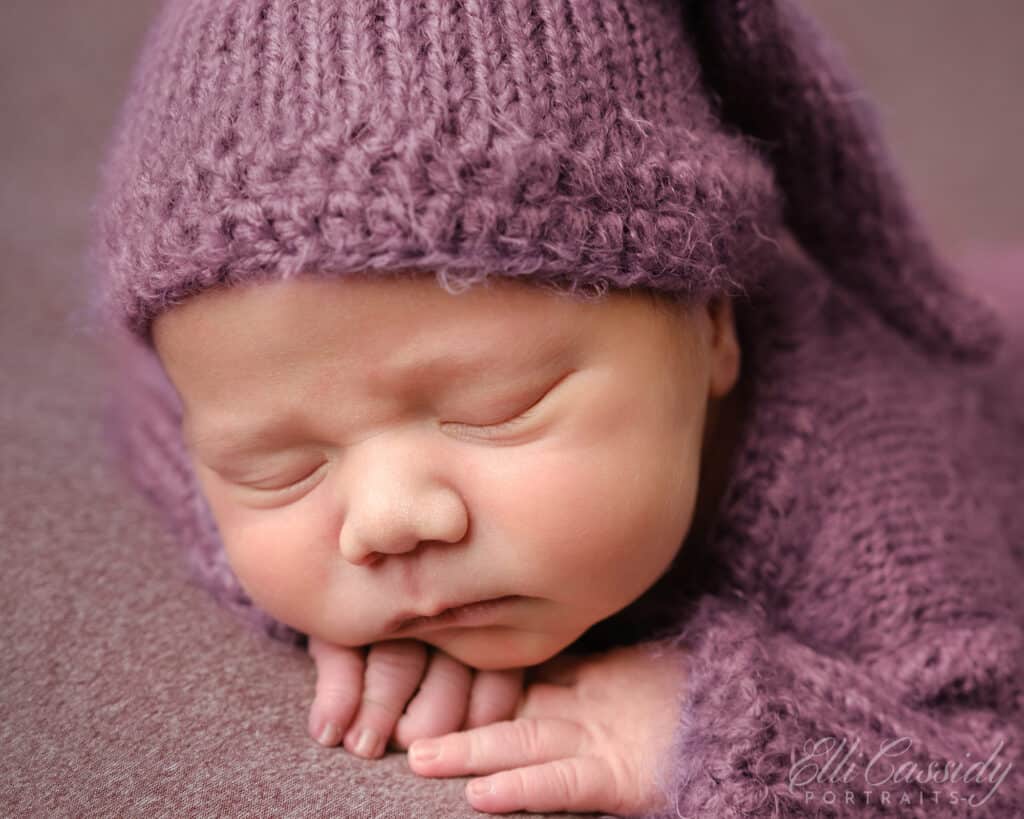 Looking at a few different mirrorless systems before I invested was time well spent and I decided that I much preferred the dials of the Fujifilm cameras. They feel more old school and were similar to my old film Minolta that I learnt on.
Some of the other brands were more menu-based and that puts me off. I want to be able to adjust everything with my fingertips whilst not taking my eye away from the subject I'm shooting.
There are so many things I can do with a mirrorless that I couldn't do before. Due to the lighter weight I can shoot one-handed, so I can be settling a newborn baby with one hand and can frame the shot with the other, just moving my hand out the way for a split second.
FILM SIMULATIONS AND VIDEO POSSIBILITIES
I can also preview the film simulations in the electronic viewfinder. If you've never tried this before, you need to!
There are lovely soft profiles such as Astia which helps gives my babies a soft creamy skin tone and a great warm white balance, or I can set it to BW for my maternity portraits and view in black and white live as I compose the shot.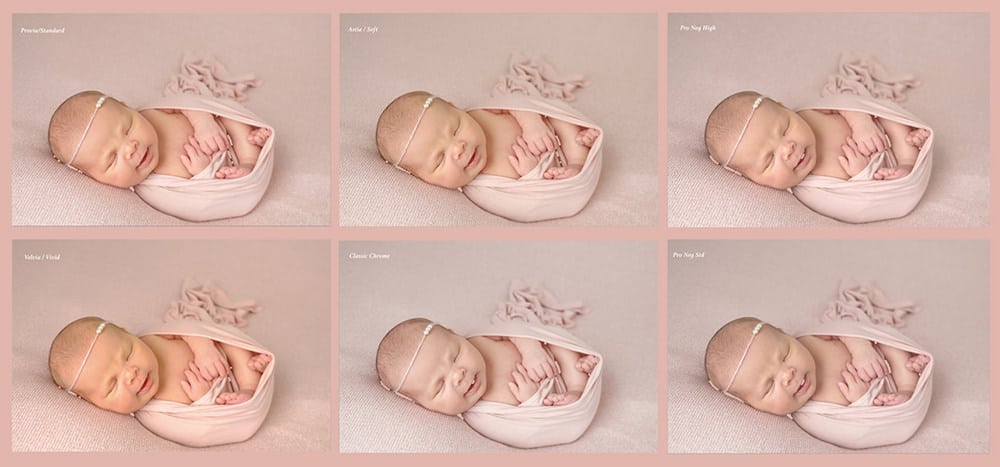 I do also make use of the tilt screen a lot, and with the touchscreen I can select the focal point and take the image too. That makes it the perfect newborn camera as I'm often working from both high and low angles.
Being able to view your exact exposure is an added benefit on the occasions that I work with daylight or continuous light, there's no guesswork and you see exactly what you'll get. This is especially useful when using the camera for any video work as well.
Looking ahead I'm planning on making more use of the XT-4's excellent video capabilities, which I found surprisingly easy to use with the electronic viewfinder.
SMALL, DISCREET AND QUIET NEWBORN CAMERA
Another advantage is the silent shutter, when working closely with babies it's nice to have a silent camera so they aren't disturbed, and with toddlers I use the LCD to view them so I can maintain eye contact with them.
I do think my younger clients find the smaller camera a lot less intimidating too. Well, for that matter, I think it's probably the same with my lovely parents too, the camera becomes less important and our connection and conversation matters more.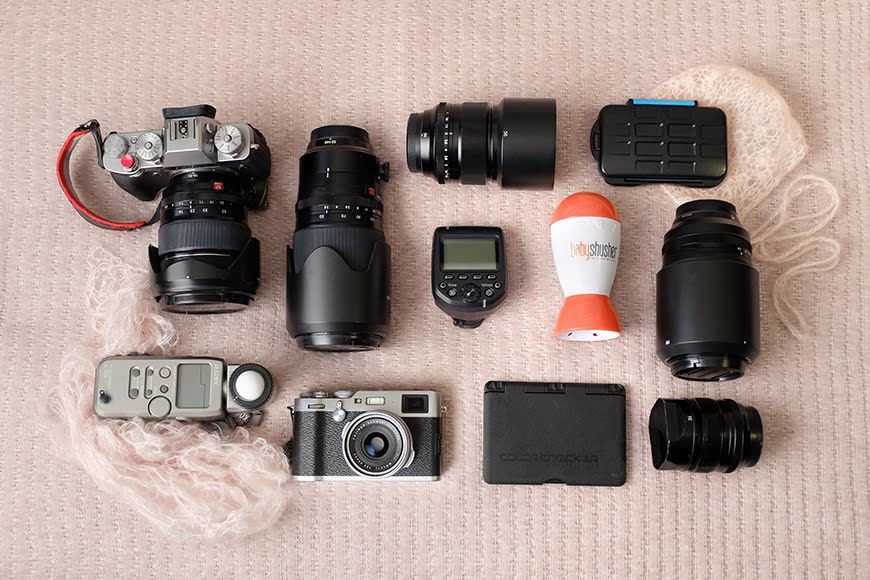 WHICH CAMERA & LENSES DO YOU RECOMMEND FOR NEWBORN PHOTOGRAPHY?
Everyone has different preferences, it's a bit like driving a car, some just look and feel better than others. If it helps my newborn camera kit list contains the following, and I finally feel like I have the perfect set-up for baby and maternity photography:
2 x Fujifilm X-T4 Cameras
Fujifilm X100f (mainly for personal use)
The Fujifilm 35mm f/1.4 prime
A Fujifilm 56mm f/1.2
Macro Fujifilm 80mm f/2.8
Fujifilm 16-55mm f/2.8
Fujifilm 50-140mm f/2.8
Elinchrom Flash Lighting
X-rite Colorchecker Passport
Sekonic Flashmaster L-358 Lightmeter
Mac Mini teamed with an amazing Wacom Cintiq and BenQ calibrated monitor
And the all important Baby Shusher white noise machine!
USEFUL LINKS:
And for a guest blog I wrote for The Flash Centre on lighting for newborn photography check out this link
If you are interested in newborn photography training, whether with Fujifilm cameras or any other brand, have at look at my training pages.